Every month, members of the White Horse Gin Club receive a generous double of a new gin to try. On this page you will find details of current, forthcoming and past gins of the month.
This month's gin (Dec 2019)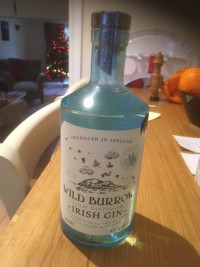 Wild Burrow Slow Distilled Irish gin is made in small batches, copper distilled, and enhanced with 12 botanicals from Rabbit Island in West Cork. The botanicals are: Juniper, Coriander, Angelica,Orris Root, Orange, Lemon, Blackberry leaves, Dandelion Flower, Scots Pine, Wild Garlic, Wild Fennel, and Furze Petals.
Best served over ice with a slice of cucumber.
It is the winner of a gold award from Blas nah Eireann, the Irish food award authority.