Welcome to the White Horse Gin Club
Every month, members of the White Horse Gin Club receive a generous double of a new gin to try. On this page you will find details of current, forthcoming and past gins of the month.
This month's gin (Nov 2019)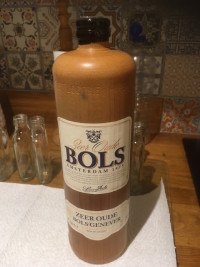 Een zachte genever met een rijke smaak van granen, lichte fruittonen en jeneverbes. Ees blennd vankruiden en het unieke Lucas Bols moutdistallaat van tarwe, rogge en mais dat drie keer gedistilleerd wordt in originale koperen ketels.
Sinds 1575 laat's werelds oudeste gedelistilleerd merk Bols je ervaren hoe tijdloos en smaakvol echt vakmanschap is.
Zeer Oude Bols Genever drink je het beste puur en op kamertemperatuur of als kopstoot met een (weizen) bier.
Forthcoming Gins
Dec 2019 - West Cork Distillery Wild Burrow Gin